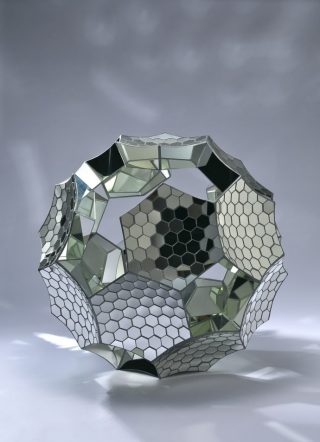 Exhibition
Onomatopoeia in Glass Art
Period: Saturday, 19 November 2022-Sunday, 4 June 2023
Opening Hours: Sun-Thu 9:30-18:00 (admission until 17:30), Fri-Sat 9:30-20:00 (admission until 19:30)
Closed: First and Third Wednesdays, December 29, 2022-January 1, 2023, 10 May 2023 (except for 3 May)
Venue: Floors 4, Exhibition Room 4 & Transparent Storage
This exhibition of works from the collection focuses on "onomatopoeic" elements in glass art.
The term onomatopoeia encompasses inanimate phonomimes (giongo) like the sound of "knocking" at a door, and phenomimes (gitaigo) that represent psychological states and actions such as "heart-pounding" excitement. Living in Japan one finds onomatopoeia frequently woven into conversation as a language available to all, from tiny babies to grown adults, that on occasion also serves as a reliable way to communicate our thoughts in a more nuanced fashion.
So what about glass-related onomatopoeia? Whether it is the painful togetoge spikiness or "Ouch!" of chiku evoked by a sharp broken shard; a fluffy fuwafuwa or puffy pukupuku lightness that overturns our image of glass as a cold, hard material; the soft, gloopy torori, dorori of falling molten glass; or the kirakira glittering or pikaa! flash when light passes through glass or is reflected by it—when we turn our attention to the onomatopoeic elements in glass works, as well as finding they make glass art a more familiar and relatable presence, we may find ourselves amazed at the sheer breadth and potential of glass art expression.
Join us to unearth this unexpected wealth of onomatopoeia in glass art, and explore more of the many mysteries surrounding this endlessly versatile material.
Click here to download the List of works.
Related Programs
Curator's Talk
Dates: 27 November, 11, 24 December 2022, 8, 28 January, 5, 18 February, 11, 19 March, 1, 23 April,
6, 28 May, 4 June 2023 each at 14:00-
Venue: Toyama Glass Art Museum
Language: Japanese
* No reservation
Information
Admission
<General Public & College Student> 200 yen (170 yen)
*Price in brackets for groups of 20 or more.
*Admission fee is free for high school students and younger.
*Tickets also allow admission to the Glass Art Garden at the 6 floor.
Contact
Toyama Glass Art Museum
bijutsukan-01@city.toyama.lg.jp