Opening Hours, Closed
 
Opening Hours
Closed
Permanent Exhibition
9:30-18:00
(until 20:00 on Fridays and Saturdays)
First and Third Wednesdays, Year-end & New Year holidays
Special Exhibition
Café
10:00 - 18:00
(Last order : 17:30)
Every Wednesday, New Year holidays
Museum Shop
9:30 - 18:00
(until 19:30 on Fridays and Saturdays)
First Wednesdays, Year-end & New Year holidays
Gallery 1,2
9:00 - 21:00(*1)
Year-end & New Year holidays(*1)
*Last admission is 30 minutes before closing time.
*The museum will be partially or wholly closed due to the preparation of upcoming exhibition.
*If a closing date is a national holiday, the following day will be closed.
*Closing dates vary depending on exhibitions.(Special Exhibition)
For details, please see the Special Exhibition page.
*1 The gallery opening and closing hours vary depending on the exhibition. For details, please contact the exhibition organizer.
Access
Access map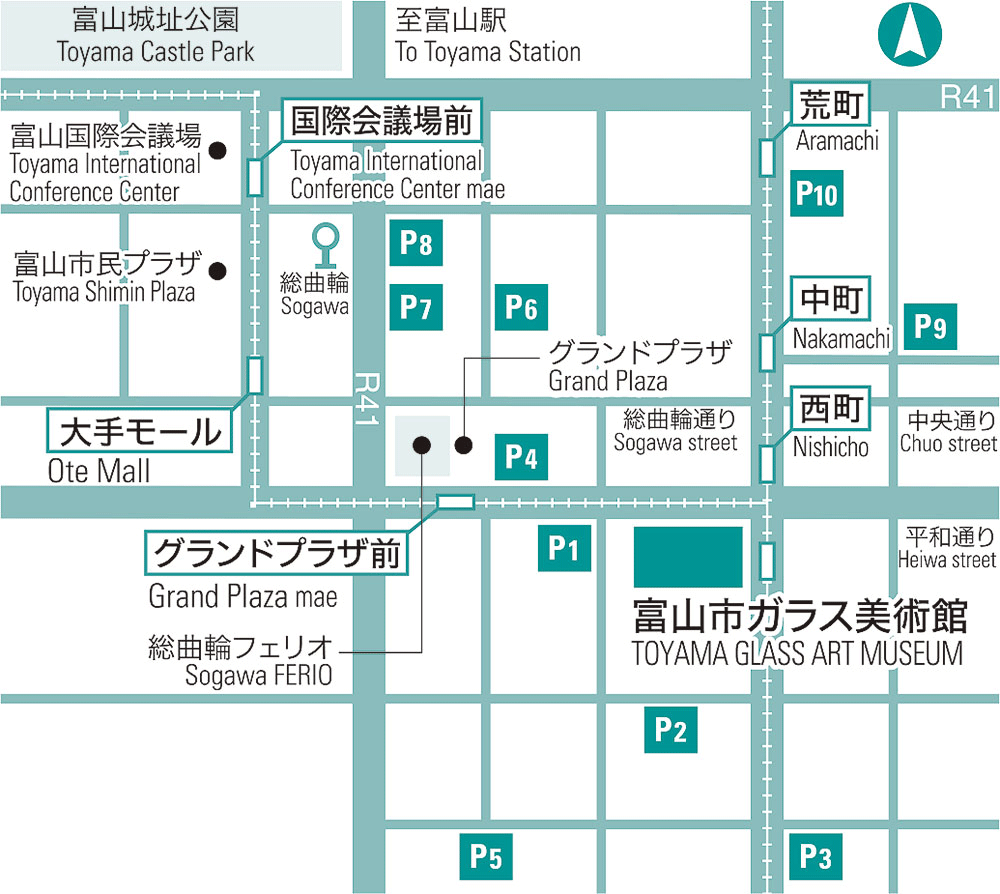 〒930−0062 5-1 Nishicho, Toyama City, Toyama 930-0062, Japan  See on Google Maps
〇Train
From Toyama St., take the City Loop Line(Shinai-densha Kanjo-sen) and get off at "Grand Plaza Mae". 2 minutes walk.
From Toyama St., take the Tram (Shinai-densha) for Minami-Toyama-Eki-Mae and get off at "Nishicho". 1 minutes walk.
〇By car or sightseeing bus
Takes approx. 20 minutes from Toyama I.C.
There is no visitor's parking. When you come by car or bus, please use the public or private parking near here.
Information on municipal parking spaces (on the Toyama City website)
〇By plane
From Toyama Airport, take a local bus called Toyama Airport Line (Toyama Kuko-sen) and get off at "Sogawa". 4 minutes walk.
〇Bicycle
There are bike racks at the southeast side of TOYAMA KIRARI. Motorcycles are not available there.
For nearby parking spaces
P1Chugeki Nishicho parking
P2Toyama Hida Kaido @park
P3Chuo parkade
P4Grand parking
P5Sanno parking lot
P6Toyama Honganji parking lot
P7Higashibetsuin parking lot
P8Toyama municipal Sogawa parking lot
P9Tsutsumijisho parking
P10Aramachi Green Park
Admission
Permanent Exhibition Admission
General Public, College Student ¥200 (¥170)
( ) is for groups of 20 people or more.
*Permanent Exhibition tickets grant entrance to the Collection Exhibition and the Glass Art Garden.
*Admission fee for Special Exhibitions will vary. Click here for details
Group Customers
For travel tour or school trip such as excursion or out-of-school study, please let us know your visit in advance by phone or email (bijutsukan-01@city.toyama.lg.jp) .
We can issue your tickets beforehand for smooth acceptance.