Glass Art Garden
Installations by the great master of contemporary glass art, Dale Chihuly, are in display. Five pieces from Chihuly's representative art series, such as the "Persian Ceiling" and "Mille Fiori" are in this exhibition.
Collection Exhibition
We are displaying the contemporary glass works of the Glass Art Museum which Toyama City has collected for "Glass Art City, Toyama" over 30 years. Approximately 20 works have been gathered which seem to be responsive to social change and the successive new values that are being created.
(The artwork is changed periodically.)
For the detail of the exhibition, please refer to below link.
Collection Exhibition Nature in Glass(Permanent Exhibition)
Glass Art Passage
Within the Public Welfare Facility, there are approximately 50 pieces exhibited which were created by 20 artists associated with Toyama. These pieces are located from the 2nd floor to the 4th floor.
The artists who have studied glass in Toyama create varied expressions such as vessels, objets d'art, and sculptures. They are active not only in Japan, but throughout the world. In this exhibition, each work develops an enjoyably rich expressive world that seems connected to a rhythm and echoes the architectural space.
(The artwork is changed periodically.)
[Admission:Free]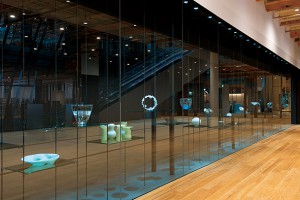 Admission
Permanent Exhibition Admission
General Public, College Student ¥200 (¥170)
( ) is for groups of 20 people or more.
*Permanent Exhibition tickets grant entrance to the Collection Exhibition and the Glass Art Garden.
*Admission fee for Special Exhibitions will vary. Click here for details