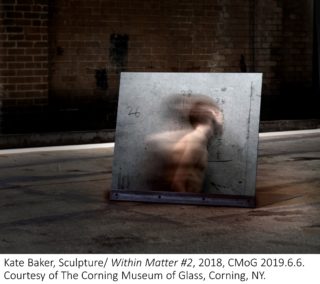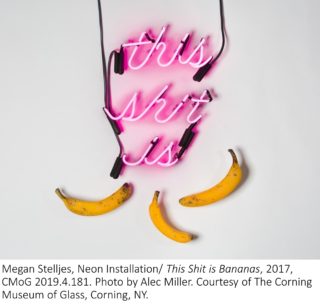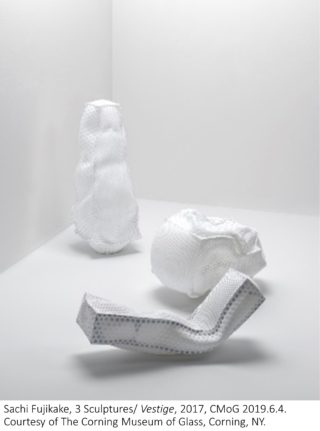 Exhibition
New Glass Now
Period: 2022.7.16 sat – 10.16 sun
Opening Hours: 9:30 – 18:00 (until 20:00 on Fridays and Saturdays)
*Latest admission is 30 minutes before closing
Closed: First and third Wednesdays
Venue: Toyama Glass Art Museum, Floors 2-3, Exhibition Rooms 1-3
About the exhibition
In April 2021, the Toyama Glass Art Museum and The Corning Museum of Glass (USA), one of the world's largest glass collections, signed an agreement to cooperate on cultural projects, beginning with this joint presentation of the exhibition "New Glass Now."
Since 1959, when The Corning Museum of Glass opened the exhibition "Glass 1959," it has promoted an understanding of trends in contemporary glass through initiatives ranging from the 1979 exhibition "New Glass: A Worldwide Survey," to publication of the New Glass Review, and ongoing support for glass artists. At the same time, the Museum has acquired a superb and extensive collection of contemporary glass.
This 2022 exhibition will present, on special loan, works by more than fifty artists and collectives that were exhibited in The Corning Museum "New Glass Now" show in 2019 and subsequently added to its collection. These works, gathered from around the world through open submission and subjected to a rigorous selection process, offer new types of expression drawn from the features of glass as a material, and the diverse endeavors of artists addressing themes that encompass the conditions and challenges we face today. Don't miss this very special opportunity to view a variety of works that brilliantly capture the state of contemporary glass today.
Artists
Tamás ÁBEL; James AKERS; Miya ANDO; Atelier NL, Lonny van RYSWYCK and Nadine STERK;
Kate BAKER; Ans BAKKER; Dylan BRAMS; Stine BIDSTRUP; Monica BONVICINI; Lothar BÖTTCHER;
Ronan BOUROULLEC and Erwan BOUROULLEC for Iittala Inc.; Keeryong CHOI; David COLTON;
Matthew CURTIS; Deborah CZERESKO; Doris DARLING; Ross DELANO, Erikh VARGO and Brad PATOCKA;
David DERKSEN for Tre Product; Nadège DESGENÉTEZ; Judi ELLIOTT; Maria Bang ESPERSEN;
Nickolaus FRUIN; Sachi FUJIKAKE; Martino GAMPER for J. & L. Lobmeyr;
Jeff GOODMAN and Jeff Goodman Studio; Hanna HANSDOTTER for Kosta Boda; Jochen HOLZ;
Krista ISRAEL, Ayako TANI and Hans de KRUIJK; Soobin JEON;Jitka KOLBE-RŮŽIČKOVÁ;
James MAGAGULA and Ngwenya Glass; Karina MALLING; Stanislav MÜLLER and Radka MÜLLEROVÁ;
Fredrik NIELSEN; Aya OKI; Sharyn O'MARA; Suzanne PECK and Karen DONNELLAN; Andrea da PONTE;
Tomáš PROKOP; Kirstie REA; Tomo SAKAI; Megan STELLJES; Austin STERN; C. Matthew SZÖSZ;
Sylvie VANDENHOUCKE; Qin WANG; Erwin WURM; Bohyun YOON
This exhibition is organized at the Toyama Glass Art Museum in collaboration with The Corning Museum of Glass
Supported by U.S. Consulate General Osaka-Kobe, THE KITANIPPON SHIMBUN, THE TOYAMA SHIMBUN, Kitanihon Broadcasting Co., Ltd., TOYAMA TELEVISION BROADCASTING CO., LTD., TULIP-TV INC.
Click here to download the flyer.
Click here to download the Press Release.
Information
Admission
General Public: 1,200 yen (1,000 yen)
University and College Students: 1,000 yen (800 yen)
○( )for groups of 20 or more
○High school students and younger: Free
○Tickets for New Glass Now include admission to Permanent Exhibition.
Advance Ticket(General Public: 1,000 yen)
○TOYAMA KIRARI 1F Information and Help Desk
○We will announce on the News page on the museum website as soon as the advance tickets are available for purchase.
Contact
Toyama Glass Art Museum
bijutsukan-01@city.toyama.lg.jp