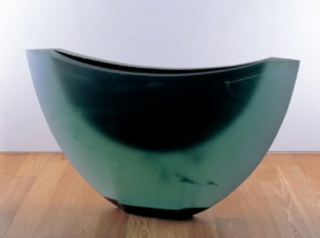 Exhibition
Nature in Glass
Period: Saturday, 10 June 2023-Sunday, 3 December 2023
Opening Hours: Sun-Thu 9:30-18:00 (admission until 17:30), Fri-Sat 9:30-20:00 (admission until 19:30)
Closed: First and Third Wednesdays, 23 August 2023 (except for 16 August)
Venue: Floors 4, Exhibition Room 4 & Transparent Storage
In this edition of the collection exhibition, we present newly acquired works by artists with an interest in the relationship between nature and people that are divided into three themes. As Toyama borders Toyama Bay on the Japan Sea to the north and boasts a commanding view of Chubu-Sangaku National Park, which extends across the Tateyama Mountain Range and the Northern Alps, local residents are treated to magnificent landscapes and beautiful scenery on a daily basis. Glass artists from a variety of cultures and backgrounds also derive inspiration from a host of familiar natural elements, including the shapes of plants and animals in their surroundings, sights produced by light, heat, and wind power, and the rich blessings of the sea and fields. Although each artist's interpretation and creative approach may differ, their gaze is constantly trained on the workings of the Earth, and their thoughts are closely attuned to nature. As we encounter these different perspectives on nature in the artists' works, we may find ourselves considering the surrounding environment and reexamining our own relationship with nature.
Click here to download the List of works.
Related Programs
Curator's Talk
Dates: 24 June, 15, 29 July, 11, 26 August, 9, 30 September, 21 October, 3, 25 November
each at 14:00-
Venue: Toyama Glass Art Museum
Language: Japanese
* No reservation
Information
Admission
<General Public & College Student> 200 yen (170 yen)
*Price in brackets for groups of 20 or more.
*Admission fee is free for high school students and younger.
*Tickets also allow admission to the Glass Art Garden at the 6 floor.
Contact
Toyama Glass Art Museum
bijutsukan-01@city.toyama.lg.jp