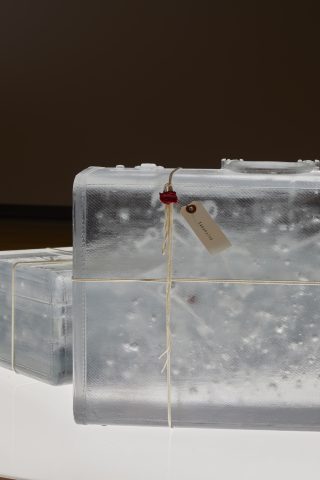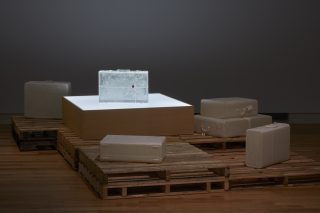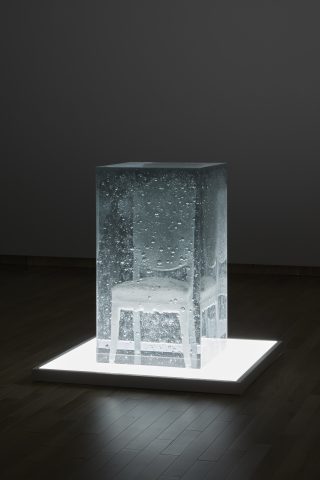 Exhibition
MIYANAGA Aiko Wrapping a Verse
Period: 2023.11.3 fri – 2024.1.28 mon
Opening Hours: Sun-Thu 9:30-18:00 (admission until 17:30), Fri-Sat 9:30-20:00 (admission until 19:30)
Closed: First and third Wednesdays (except January 3), December 29, 2023-January 1, 2024, January 10

Venue: Floors 2-3, Exhibition Rooms 1-3
Artist Miyanaga Aiko is known for her sculptures in naphthalene, resin and glass, and installations using salt and leaf veins, all with an overarching theme of "ever-changing continuation." Miyanaga gathers up nondescript everyday occurrences that come to her notice, and elevates them to breathtakingly beautiful works of art. On the occasion of this exhibition MIYANAGA Aiko Wrapping a Verse, having spent time engaging face to face with glass, Miyanaga employs this seductive material to present in Toyama new works that embrace water, air, and history. Coming face to face in turn with Miyanaga's creations will doubtless lead us to form connections with and reflect upon our own personal memories. MIYANAGA Aiko Wrapping a Verse offers a superb opportunity to experience the appreciative observation of the day-to-day that underlies all of Miyanaga's expression, and be suffused with its warm glow.
Organized by Toyama Glass Art Museum
Special cooperated by Mizuma Art Gallery
Supported by THE KITANIPPON SHIMBUN, THE TOYAMA SHIMBUN,
Kitanihon Broadcasting Co., Ltd.,
TOYAMA TELEVISION BROADCASTING CO., LTD., TULIP-TV INC.
Information
Admission
General Public 1,200 yen (1,000 yen), University and College Students 1,000 yen (800 yen)
〇( ) for groups of 20 or more
〇High school students and younger: Free
〇Tickets for Other Worlds include admission to Permanent Exhibition
Contact