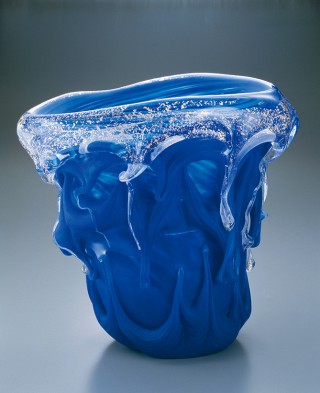 Exhibition
The Glass Art of Kyohei FUJITA "Contemporary" Tradition
Period: Nov. 21, 2015 - Jan. 31, 2016
Opening Hours: 9:30 - 18:00
(We are open until 20:00 on Fridays and Saturdays.
Last admission is 30 minutes before closing time.)
Closed: Every Wednesday (open on Dec. 23, 2015 and close on Dec. 24, 2015)
Year-end & New Year holidays (Dec. 29, 2015 - Jan. 3, 2016)
Venue: Exhibition Room 3 [3F]
One of Japan's leading glass artists, Kyohei FUJITA, was born in Tokyo in 1921, and in 1940 he entered the Craft Department of the Tokyo School of Fine Arts (now the Tokyo University of the Arts) to study metal carving.
After graduating, he entered the Iwata Glass Company but soon left to pursue a career as an independent glass artist. In 1964 he showed a flowing glass object, entitled 'Rainbow Colors', which received a lot of attention. Subsequent to this, after many years of trial and error, he exhibited his 'Ornamented box' in 1973, reviving traditional Japanese aesthetics in a contemporary form, using glass as his medium and receiving high acclaim for his the unique creativity. The following year, he continued to develop this 'Ornamented box' series that went on to become representative of Kyohei FUJITA's glass art. It was particularly well received in the West as being a contemporary form of the 'Rimpa' School and was highly praised for its refined beauty.
In 1977 he began work in Italy, redefining the history and traditions of Venetian glass with a new aesthetic, producing numerous Fujita-style Venetian vases. Also in Italy, he began to produce large-scale objects that he first showed in 1984, their unrestrained forms enlarging his world of expression as a contemporary artist. In addition to these achievements, both in Japan and abroad, he also contributed widely in the development of glass education and the glass world in general, becoming recognized as a Person of Cultural Merits in 1997 and receiving the Order of Cultural Merit in 2002.
This exhibition will include approximately sixty works, covering his whole career, in order to present the fascination of Kyohei FUJITA's glass art and a view of his unique world of expression.
Information
Admission
General Public ¥800 (¥600), College Student ¥600 (¥400)
Multi-Facility Pass for Kyohei FUJITA Exhibition & Howard Ben Tré Exhibition
General Public ¥1,300 (¥1,100), College Student ¥1,100
The price in the ( ) is the price for groups.
Those in groups are to be 20 or more.
With this exhibition ticket, you can view both the Collection Exhibition and the Glass Art Garden.
Organizer : Toyama Glass Art Museum
Contact
Toyama Glass Art Museum
bijutsukan-01@city.toyama.lg.jp