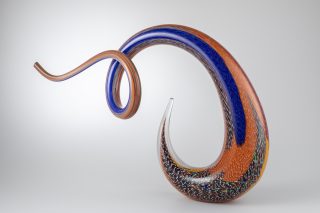 Exhibition
Lino Tagliapietra  A Life in Glass
Period : October 12, 2019 – February 9, 2020
Opening Hours : 9:30-18:00 (until 20:00 on Fridays and Saturdays)
*On the first day, the exhibition will open after the opening ceremony(13:00~).
Closed : First and Third Wednesdays (except January 1, 2020), December 31, 2019 and January 8, 2020
Venue : Exhibition Room 1-3 (2,3F)
Summary
Colossus of contemporary glass art Lino Tagliapietra was born in 1934 in Murano, Italy, center of Venetian glass production. Starting as a young boy, he learned traditional glass-blowing techniques from the glassmakers of a local glass factory, before going on to distinguish himself as a maestro of outstanding skill and imagination. Working for local glass factories in various capacities, including the production of design pieces and serving as a director, from the 1970s onward Tagliapietra also branched out to the United States, teaching at internationally renowned institutions where he was instrumental in disseminating Murano glassmaking techniques developed through the centuries.
Now devoting his time to his own practice, Tagliapietra takes inspiration from the cities and natural environments he encounters on his travels, from cultures around the world and images he associates with the sounds of languages, incorporating these in his works. Tagliapietra's pieces, which explore different ways of combining form, color and designs, through his ongoing dialogue with glass, are distinguished by the vibrant vitality of their colors and the graceful fluidity of melted glass. This exhibition traces Lino Tagliapietra's contributions to glass, in a display of around 80 works dating from the 1950s to the present day.
Related Events

■Opening Ceremony
Date: Saturday, October 12, 2019 at 13:00-
Venue: Toyama Glass Art Museum 2F Lobby
*The celemony is open to the public.
■Artist Demonstration
Date: Sunday, October 13, 2019 at 10:00-12:00
Venue: Toyama Glass Studio – Second Studio –
*Free parking is available on site.
*Those who reserved seats for the shuttle bus should gather at the Toyama Glass Art Museum (1F) at 9:30.
Participation Fee: Free
Capacity: 50 people
*Participants will be selected randomly in advance if the number of applicants exceeds the capacity.
*The selection result will be announced to each applicant by email without exception.
How to Apply:
For your application, please send your information to the following e-mail address.
E-mail: bijutsukan-01@city.toyama.lg.jp
・Full name(s) of the applicant and the companion (if any)*Max. 2 persons per application
・Phone number
・Email address
・Whether or not you expect to reserve seats for the shuttle bus. *Max. 25 seats are available for the selected participants.
*Application is open until Friday, September 6.
*Your personal information can be used to identify and contact you. We are committed to keeping your information safe in accordance with the Act on the Protection of Personal Information.
*The demonstration might be rescheduled on Monday, October 14.
Please check the  website of the museum for the information updates.
■Curator's Gallery Talks
Dates & Time: Every other Saturday during the exhibition period (October 26, November 9, 23, December 7, 21, January 11, 18, and February 1). 14:00-
Venue: Toyama Glass Art Museum Exhibition Room 1-3 (2,3F)
*Gallery talks require tickets for the exhibition.
*Reservation is not required.
*The gallery talks are only in Japanese.
Information
Admission
<General Public> 1,000 yen (800 yen) <College student> 800 yen (600 yen)
*Price in brackets for groups of 20 or more.
*Admission fee is free for high school students and younger.
*Tickets also allow admission to the Permanent Exhibition.
Supported by

Embassy of Italy, Italian Cultural Institute – Tokyo,
THE KITANIPPON SHIMBUN,THE TOYAMA SHIMBUN, Kitanihon Broadcasting Co., Ltd.,
TULIP-TV INC., Toyama Television Broadcasting Co., Ltd.
Contact
Toyama Glass Art Museum