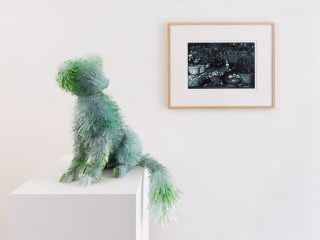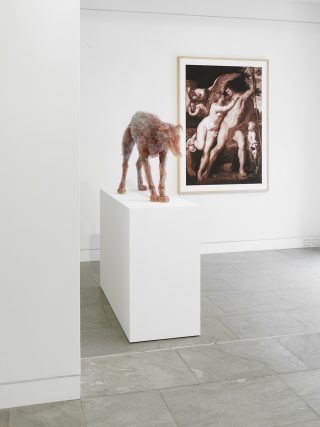 Exhibition
MARTA KLONOWSKA Istota
Period: Saturday, April 27, 2019– Monday, September 23, 2019
Opening Hours: 9:30-18:00 (until 20:00 on Fridays and Saturdays. Last admission is 30 minutes before closing time.)
*On the first day, the exhibition will open after the opening ceremony (11:00am-).
Closed: May 8, May 15, June 5, June 19, July 3, July 17, August 7, August 21, September 11 and September 18, 2019

Venue: Exhibition Room 3 (3F)
The Toyama Glass Art Museum is delighted to be holding the first solo exhibition in Japan by the Polish artist Marta Klonowska (b. 1964).
Klonowska finds inspiration for the subjects of her works in famous Europeans paintings from the 15th to 18th centuries, prior to the advent of photography, and in particular in the animals and shoes that appear in these masterpieces.
She produces numerous drawings as part of her close analysis of these paintings, and the sculptures she creates by making a metal skeleton and attaching to it countless shards of colored glass in a manner reminiscent of embroidery are displayed alongside ink-jet printed copies of the original paintings.
The resultant works combine a variety of elements including past and present, ideal and reality, and beauty and danger, as well as revealing the emotions that lie deep within us.
The exhibition presents a selection of works made between 2003 and the present along with some of the drawings that from the starting point of Klonowska's practice while also introducing recent works inspired by Japanese ukiyo-e, providing an insight into the appeal of the artist's works that have stimulated the imaginations of viewers around the world.
Related Programs
Related Event
Gallery Talk by MARTA KLONOWSKA
Note: Consecutive interpreting from English into Japanese will be provided.
■Date & Time:
April 27, 2019
14:00 p.m.-
■Venue:
Exhibition Room 1,2 (2F), Toyama Glass Art Museum
Information
Admission
Adults: 700Yen (500Yen)  College students: 500Yen (300Yen)
Elem/JH/HS: free
*Price in brackets for groups of 20 or more
*The ticket also allow admission to Collection Exhibition and Glass Art Garden
* Combined ticket with "Runé Lalique -Paris Modern Elegance  Selected Works from the Kitazawa Museum of Art" is available.
Supported by

Polish Institute in Tokyo, THE KITANIPPON SHIMBUN,
THE TOYAMA SHIMBUN, Kitanihon Broadcasting Co., Ltd.,
TULIP-TV INC., Toyama Television Broadcasting Co., Ltd.
Contact
Toyama Glass Art Museum
bijutsukan-01@city.toyama.lg.jp