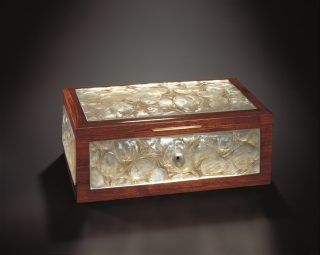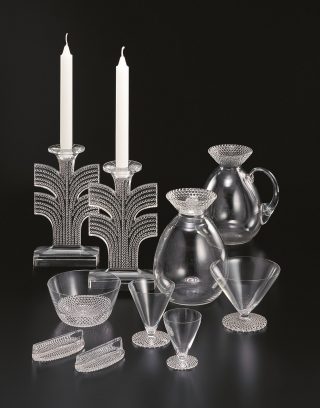 Exhibition
René Lalique -Paris Modern Elegance 
Selected Works from the Kitazawa Museum of Art
Period : Saturday, April 27, 2019– Monday, September 23, 2019
Opening Hours : 9:30-18:00 (until 20:00 on Fridays and Saturdays. Last admission is 30 minutes before closing time.)
*On the first day, the exhibition will open after the opening ceremony (11:00am-).
Closed : May 8, May 15, June 5, June 19, July 3, July 17, August 7, August 21, September 11 and September 18, 2019

Venue : Exhibition Room 1,2(2F)
Summary
From the late 19th century to the early 20th century, art glass in France entered the golden age. Emile Gallé (1846-1904) of Nancy developed Art Nouveau glass from the late 19th century in the motif of colorful nature. In contrast to him, René Lalique (1860-1945) created Art Deco, a modern style in the beginning of the 20th century. Lalique spent the first half of his life as a jewelry artist and had great success winning the grand prix at the 1900 Paris Exposition. After he reached fifty, he challenged art glass and attracted worldwide attention at the 1925 Art Deco Exposition. Lalique introduced glass in a variety of areas from a perfume bottle to architectural decorations, proposing a modern lifestyle.
Kitazawa Museum of Art in Suwa City, Nagano Prefecture, which is known for its Gallé's collection, owns one of the greatest collections of glass artworks by Lalique. In this exhibition, we introduce major works of Lalique from Kitazawa Museum's collection.
Information
Admission
Adults: 700Yen (500Yen)   College students: 500Yen (300Yen)
Elem/JH/HS: free
*Price in brackets for groups of 20 or more
*The ticket also allow admission to Collection Exhibition and Glass Art Garden
* Combined ticket with "MARTA KLONOWSKA Istota" is available.
Supported by
THE KITANIPPON SHIMBUN, THE TOYAMA SHIMBUN, Kitanihon Broadcasting Co., Ltd., Tulip TV INC., Toyama Television Broadcasting Co., Ltd.
Contact
Toyama Glass Art Museum