With the grand vision of creating a "Glass Art City, Toyama" Toyama Glass Art Museum opened in August 2015.
Toyama Glass Art Museum was built in TOYAMA KIRARI, a composite facility, which is also occupied by the Toyama City Public Library Main Building. As the Museum is located in the center of Toyama City, it not only serves as a hub of art and culture, but it also plays a role of generating new attraction for the city.
Kengo Kuma, a world-renowned architecture, designed this building. The Exterior of the building resembles the ever-changing Tateyama mountain range, and was built with a combination of different materials, such as granite, glass, and aluminum. The interior, on the other hand, makes full use of louvers that use materials from Toyama Prefecture to create an atmosphere of warmth and openness.
The Museum holds Permanent Exhibitions, such as the Collection Exhibition displaying the contemporary glass artwork that collected by Toyama City. In the murals of the exhibition rooms and the library, there is the "Glass Art Passage" that displays artwork from artists associated with Toyama.
Additionally, on the 6th floor, there is the "Glass Art Garden" that displays installations from the studio of the great master of contemporary glass artwork, Dale Chihuly.
In the special exhibition, a variety of art styles are introduced with a focus on contemporary glass artwork after the 1950s.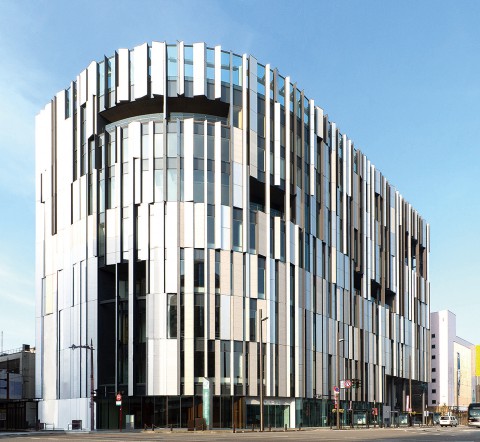 History of the Museum: Glass Art City Toyama

| | |
| --- | --- |
| April 1985 | Establishment of glassware course at Toyama City College |
| April 1991 | Opening of Toyama City Institute of Glass Art |
| April 1994 | Opening of Toyama Glass Studio |
| March 1998 | Formulation of the basic plan for the "Glass Village" in the Nishikanaya area of Toyama |
| March 2001 | Formulation of the basic plan for the "Glass Art Museum" |
| February 2008 | A panel discussion on the "Glass Art Museum (provisional name)" declared its desire for the building site to be located in the city center |
| March 2009 | Formulation of the "Plan for the Building of a Glass Art Community in Toyama" |
| March 2010 | The establishment of a lodging house and an artist-in-residence program for the "Glass Village" |
| November 2010 | Formulation of the "Basic Plan for a Public Service Institution in the Southern Nishicho District" |
| January 2012 | "Glass Village" renaming opened to the public; "Glass Art Hills, Toyama" chosen as the new name |
| September 2012 | Establishment of a second Toyama Glass Studio at "Glass Art Hills, Toyama" |
| August 2015 | Toyama Glass Art Museum opens |