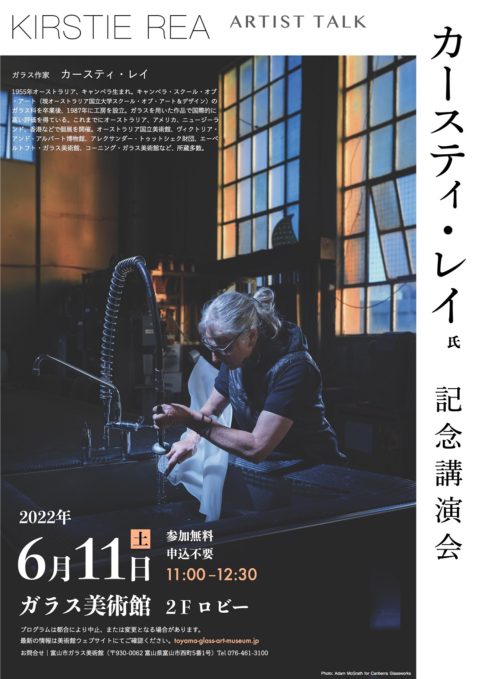 Commemorating the ongoing exhibition 'Kirstie Rea: The Breadth of Stillness', Toyama Glass Art Museum is pleased to have the floor talk by Kirstie Rea. Join us as we celebrate and learn about the ideas and creations behind this achievement.
Date: Saturday, 11 June 2022 at 11:00-12:30
Venue: Toyama Glass Art Museum 2F Lobby
Artist: Kirstie Rea
Languages: English and Japanese
*Free of charge
*No reservation required
*The floor talk will be livestreamed on Museum's official Youtube channel. URL: https://www.youtube.com/channel/UCmPSyJhU3f7VL8r-jx9R4dA
Bio
Kirstie Rea
Born in Canberra, ACT, Australia (1955-). Having established her studio in 1987, following her graduation from the Glass Workshop at the Canberra School of Art (now, Australian National University School of Art & Design), Rea has continued to develop her practice, becoming internationally recognized and respected for her works in glass. Rea has had solo exhibitions in Australia, the USA, New Zealand and Hong Kong. Her works are included in public and private collections such as the National Gallery in Australia, the Victoria and Albert Museum, London, the Alexander Tutsek-Sutiftung Foundation in Munich, Germany, Glasmuseet Ebeltoft, Denmark and the Corning Museum of Glass, the USA.